This list is updated often – so check back.
Also, local camps have been BOOKING UP.  SO if you see one book it now or you might miss your chance.  
---
Extended learning at TGS features creative, hands-on learning activities
that build skills, bodies, and excitement! The Early Childhood extended learning program will reflect the same structure present during the school year.
We will offer themed months that will fit the needs and interest of the children in our TGS community by incorporating principals that foster independence, freedom, and responsibilities.
Ages: 3 years old to 10th grade
Cost: $395/week. Camp runs from 9-3pm daily. Before care and after care is provided for an additional fee.
Location: 2001 South Dixie HWY. West Palm Beach, Fl. 33401
Phone number: 561-293-2888
---
First Tee allows participants ages 6-18 to learn the life skills through the game of golf!  Our mission is to impact the lives of young people by providing educational programs that build character, instill life-enhancing values and promote healthy choices through the game of golf.
Camps are offered throughout Palm Beach County. For more information, please visit our website or call 561-842-0066
Ages- 6-18
Cost – varies based on locations
Locations –

Keiser University Golf Coaching Center
Commons Park Golf Learning Center
John Prince Golf Learning Center
The Golf Club of Jupiter
Madison Green Country Club
Michael B. Finnegan Learning Center – Dyer Park
North Palm Beach Country Club
Okeeheelee Golf Course
Park Ridge Golf Course
Southwinds Golf Course
---
Scientastic summer starts NOW! The Museum of Discovery & Science's Camp Discovery, sponsored by Joe DiMaggio Children's Hospital, offers a S.A.F.E. (Science. Affordable. Fun. Educational) and unforgettable STEM summer camp. Awesome themes abound from MODS Space Adventures to Dinos in Motion and STEAM Makerspace to Zombie Survival Training and more.
Ages: 6-12
Four-Day Camp
Museum members: $160 per week
Non-members: $180 per week
Five-Day Camp
Museum members: $200 per week
Non-members: $225 per week
Location: Museum of Discovery and Science, 401 SW Second Street, Fort Lauderdale, FL 33312
Phone number: 954.713.0930
Learn more or make your reservations:  mods.org/summercamp
---
The World's #1 STEM/STEAM program is a high-energy, hands-on fusion of STEAM, 21st Century Skills, Problem-Solving Adventure and Project-Based Learning. Campers embark on fantastical themed STEAM journeys where they work in collaborative teams to tackle various exciting challenges using only the materials in their treasure chest and their boundless imaginations.  We invite students ages 6-10 to join us to squeeze through "Slimetopia", wag on over to "Pets Palooza", set sail for a "World Cruise", start their own business with "STEAM Tank Entrepreneurs", and more! Location: Rosarian Academy in downtown West Palm Beach.
For more information visit www.challenge-island.com/palmbeachcounty/program/camps/or call 561-899-6176.
Ages: Rising 1st grade – Rising 4th grade
cost: $250 for half day, $375 for full day
location: Rosarian Academy: 807 N Flagler Dr, West Palm Beach, FL 33401
---
Summer is made for adventure! For young scientists ages 7-12, each exciting week of camp offers hands-on exploration on a variety of STEM topics. The days are packed with interactive lessons, exhibit exploration, crafts and outdoor activities led by our expert Science Educators. Space Science, Marine Biology, MinecraftEDU, and more!
Ages: 7-12
Cost: Varies; check our website for the latest
Location- Cox Science Center and Aquarium; 4801 Dreher Trail N, West Palm Beach, FL 33405
STEM Studio in Abacoa; 1209 Main Street Suite 112, Jupiter, FL 33458
Phone number- (561) 832-1988
Website link- www.coxsciencecenter.org/camps
---
Watch your child become a musician this summer! School of Rock is offering a wide variety of themed camps meant for children ages 7-18 who have had some previous instruction. We condense what is normally a four-month season, into one week of daily rehearsals. With our performance-based approach, students learn to play by rehearsing and performing together in a fun environment. Each of our camps end with a live rock show performed by the campers. Sign up your child and give them a taste of what School of Rock of the Palm Beaches is all about. 
All of our camps go from 9am-3pm, with a show on the last day at 6pm. The cost is $425. We teach guitar, keys, bass, vocals, and drums. 
North Palm Beach Options:  11650 US Highway One, North Palm Beach FL, 33408 | (561) 625-9238
Classic Rock Rewind: May 30 – June 3 
Green Day: June 13 – 17 
Best of the 90s: June 27 – July 1 
Kiss: July 11 – July 15 
Anti-Authority: Aug 1 – Aug 5 
South Palm Beach Options:  7433 S Military Trail, Lake Worth FL, 33463 | (561) 855-2646 
British Invasion: June 6 – June 10 
80s Rock: June 20 – June 24 
Pop Punk: July 4 – July 8 
70s Rock: July 18 – July 22
---
All of your child's dance and music summer activities in one place! Our caring, experienced teachers are experts at helping your little one adapt and feel at home in our 9:00am-12:00 pm camps. Our programming is mindful of a younger dancer's needs. These little ones are lovingly immersed in a daily rotation of energetic dance, creative music, and arts and crafts classes. To demonstrate progress, we conclude with a performance at the end of each week! Unique weekly themes and adorable dances make this a fun filled morning week after week.
Ages 3-7 years old
Cost $165.00
Location: Florida School for Dance Education
4100 PGA Blvd. Palm Beach Gardens, FL 33410
Phone: 561-627-9708
---
Guidepost Montessori is offering weekly summer camps for Elementary students ages 6-12 starting June 6th – July 29th. Each week is designed around a specific theme for students to discover and investigate, including classic camp favourites and new themes like "Need for Speed!" where students will test all sorts of creations in motion from rubber band racers, catapults, tornado bullets and noodle boats. Our camp features creative projects, outdoor games, singing, field trips and much more on our beautiful campus. You can sign up for as many weeks as you'd like – summer camp is also a great way to get to experience our Elementary community and teachers ahead of fall enrollment. Browse our summer camp program guide to read about how we've designed a unique program, or click here for camp details and registration.
Website: https://www.guidepostmontessori.com/koaa-palm-beach-gardens
Pricing: $340/week
Ages: 6-12
Receive a 5% discount on additional camp weeks after your fourth week
Camp Hours: Monday to Friday 7:00am – 6:00pm
Address: 353 Hiatt Drive, Palm Beach Gardens, FL 33418 US
Virtual camp options also available
Contact admissions at (636) 445-5360
April 25th Guidepost Montessori Camp Preview Day
Calling all summer campers! On Monday April 25th, Guidepost Montessori is hosting a Summer Camp Preview Day for families and students who are interested in our Elementary Summer Camp. Drop in any time from 4:30-5:30pm to meet our team and experience a sneak peek of the fun-filled activities lined up for this summer (plus snacks and giveaways!). Friends and family are welcome to join, Please RSVP in advance with this link
---
Jewish Camp of the Arts celebrates its 35th year! Jewish Camp of the Arts program schedule is full of exciting activities including art, sports, music and movement, swimming, clay creations, canvas art, scrapbooking and junior chefs experience as well as mad science, beauty spa, creative arts, giant gaming, weekly trips and more!
This year's fun-filled weekly themes include Zootopia: Lions, Tigers and Summer Safari; Whales and Shales: the land down under; Ark-e-ology + Art-a-Facts; and, Stuck Together with PB + J Magical Week.
JCA Camp Director, Mrs. Chani Ezagui, has years of camping experience as a counselor, head counselor and director and focuses on creating a nurturing environment to bring out the best in our staff and children.
The real secret to our success lies in our outstanding staff. We hire counselors and staff members who are experienced, responsible, and caring. Each counselor is a role model for the campers, offering camaraderie, leadership, and inspiration and COVID protocols are in place.
Campers enjoy a wide range of exciting activities and crafts in a warm and spirited atmosphere at the Jewish Camp of the Arts. Your camper is sure to have the time of their life!
Ages: 2 to 12 years old
Tuition: $270 per week (includes lunch and snacks); ask us about our early-bird discounts while allotted funds remain.
PB Moms Special: One week free to new campers with sign up of three weeks (does not include trip fees)
Camp Dates: June 13th to August 5th (week of August 1-5 tbd)Summer Camp 5782/ 2022 Weeks 
Week 1 – Zootopia: Lions, Tigers + Summer Safari – June 13
Week 2 – Whales, Shales + the Land Down Under – June 20
Week 3 – Muddle, Puddle, Gooey + Messy – June 27
Week 4- Party in the USA – July 4 (closed on July 4th)
Week 5 – Ark-e-ology + Art-a-Facts – July 11
Week 6 – Hills, Mounds, Tunnels, Bridges + Ramps – July 18
Week 7 – Stuck Together with PB + J Magical Week – July 25
Week 8 – TENTATIVE POST-CAMP WEEK based on registration by request – August 1
Camp Times: 9:00 am to 3:30 pm; before and after care available

The Jewish Camp of the Arts 844 Prosperity Farms Road in North Palm Beach
Phone: (561) 624-7004
---
Parents have voted and it's official – Camp Shalom is the Best. Camp. Ever. With daily swimming in our outdoor pool, first-rate communication, and incredible activities across our beautiful and secure 16-acre campus such as our ninja warrior course, aqua-zipline, air-conditioned gymnasium, and expansive sports fields, Camp Shalom provides a summer your child will never forget! Along with busy days of fun, Camp Shalom helps campers develop new skills and self-esteem through new experiences, team building, and friendships. We're that camp where everyone knows your name and when you walk in, you are not just part of a summer camp, but part of a family. Camp Shalom offers traditional, sports, and special needs camps.
Ages: Ages 2 to 4 & Kindergarten to 8th Grade
Cost: Prices vary
Location: 5221 Hood Road, Palm Beach Gardens
Phone Number: (561) 259-3000
Website Link: CampShalom.org
---
We are thrilled to share our 7 week Summer Camp Program! Our camp schedule is specifically designed to target the overall needs of our campers!
Academics is a must in our efforts to avoid summer slide. In addition, we will be incorporating Social-Emotional Skills Building, Community & Cultural Awareness, Independent Functioning/Life Skills, Health & Fitness Education & much more!
LETS HAVE AN AMAZING SUMMER TOGETHER!!!
SUMMER CAMP REGISTRATION IS NOW OPEN THROUGH APRIL 15TH!!!
Contact us for registration information. Scholarships Available.
---
The Broadway Artists Intensive Junior (TBAI Jr.)
This summer's Junior Intensive is a 1-week introductory session for students ages 9-13. TBAI Jr. students will train with Broadway faculty and will study all areas of the performing arts, with daily classes from 9am to 4pm in ballet, jazz, tap, vocal technique, acting and improvisation. There are currently 50 spots open and TBAI Jr. is $450. No audition is required.
June 27 – July 1, 2022 from 9 am to 4 pm
Created by Broadway professionals Jason Gillman and Jackie Bayne Gillman, The Broadway Artists Intensive Junior students study with the same professional Broadway faculty as the more demanding, by audition only, 3-week program. TBAI Jr. parents are invited to attend a Student Demonstration on the final day of the program to get a glimpse into some of the skills acquired over the week-long intensive. Previous Guest Artists for TBAI Jr. include Dennis Stowe from Aladdin on Broadway, Enrique Segura from The Lion King on Broadway and Jeremy Davis from the Broadway cast of Frozen.
For more information about The Broadway Artists Intensive Junior, please visit www.thebroadwayartistsintensive.com.
---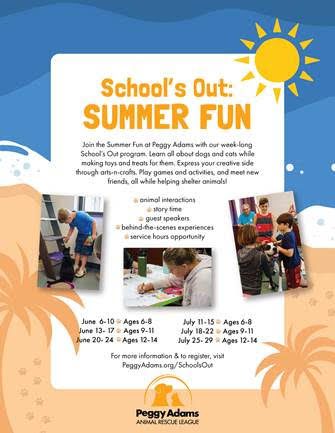 Join the Summer Fun at Peggy Adams with our week-long School's Out program!
Learn all about dogs and cats and make toys and treats for them.  Express your creative side through arts-n-crafts. Play games and activities, and meet new friends, all while helping shelter animals!
Activities include animal interactions, storytime, guest speakers, behind-the-scenes experiences, and even an opportunity to earn some service hours (the number of hours earned varies per week/ guaranteed minimum of 10).Registration Required*
Program fee:
$250/ child for all five days
PAYMENT REQUIRED AT TIME OF REGISTRATION
Program dates:
June  6-10            ages 6-8
June 13- 17          ages 9-11
June 20- 24          ages 12-14
---
Mounts Botanical Garden of Palm Beach County 
Friends of the Mounts Botanical Garden will be hosting two week-long programs next month for nature curious youngsters ages 7 to 11. Garden Explorers Summer Camp offers science-based fun and nature experiences, Monday through Friday, 9 am to 3 pm, July 11-15 and July 25-29.
Each camp session will be limited to 20 participants and will offer both inside and outside activities, including:
Become a junior wetlands water quality specialist by learning how to catch and identify macroinvertebrates in Mounts' beautiful Lake Orth.
Become a budding soil scientist by getting a close-up, dirty-hands look at the properties of mud.
Become a blooming horticulturist by discovering the wicked, dangerous, sticky, deceptive and downright incredible adaptations plants have developed to help them survive.
Become a botanist-to-be by attending a dissection lab for an inside look at the fascinating structures of seeds and flowers.
Become an aspiring agriculturalist by touring the edible gardens at Mounts and learn how to grow and nurture tasty fruits and vegetables.
The cost to attend each week-long session is $250 for Mounts members, $290 for nonmembers. (Note: an extra $50 per camper will cover extended care, 8 to 9 am, and 3 to 4 pm.)
For each session of the Garden Explorers Summer Camp, young participants should bring a refillable water bottle, a healthy lunch, a hat, sunscreen, and bug repellant.
For each camper, Mounts will provide materials for all activities, snacks, and water for refilling bottles.
Info here to register for the Garden Explorers Summer Camp at Mounts this July,
---